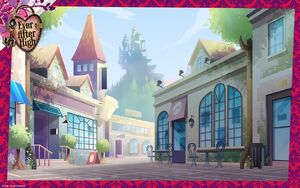 The Village of Book End is a settlement located next to Ever After High and the Enchanted Forest. The students of Ever After High hang out there often, especially when they just want to hang out with friends or go shopping. Some of the students even work at the various stores across the village.
Layout
Among the many shops at the Village of Book End are the Glass Slipper Shoe Store, the Gingerbread Boutique, the Mirror, the Mad Hatter of Wonderland's Haberdashery & Tea Shoppe, Hocus Latte, the Yarns & Noble bookstore, the Multi-hex theater, Beanstalk Bakery and the Enchanted Flower Shop. The Tower Hair Salon is the primary location where people get their hair done. Looking Glass Beach is located on the outskirts and falls under the village's jurisdiction. There also is a facility called the Red Shoes Dance Club where people can go dance the night away. In the same building there is Red Shoes Studio which teaches ballet. Betty Bunyan runs the town Blacksmith.
Notes
Ad blocker interference detected!
Wikia is a free-to-use site that makes money from advertising. We have a modified experience for viewers using ad blockers

Wikia is not accessible if you've made further modifications. Remove the custom ad blocker rule(s) and the page will load as expected.