Ok, let's begin with how I got this idea,
In 2013, I got the 1st School for Good and Evil book. I was hooked. In my mind I already had characters for Sophie & Agatha's kids
The 2nd book came out this year in April. I got it. It's really cool.
Now, onto the subject. Could the School for Good and Evil count as a fairy tale? I would like it to be counted as one. I mean, it would be an awesome fairy tale. Tell me if you agree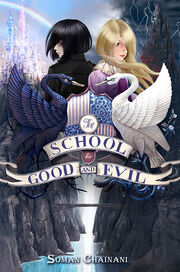 Ad blocker interference detected!
Wikia is a free-to-use site that makes money from advertising. We have a modified experience for viewers using ad blockers

Wikia is not accessible if you've made further modifications. Remove the custom ad blocker rule(s) and the page will load as expected.