Okay, so if you have a tumblr and track the tag or have a facebook and have seen the images, what do you think of miss Cerise Wolf? In-case you don't know what I'm talking about, over the past few days their spanish facebook page has been posting teasers of the San Diego Comic Con
exclusive. Thoughts? Imo, she's the prettiest Cerise yet and I hope I can get her at some point... C: PS. Should I make a page for the SDCC dolls if there's not already one?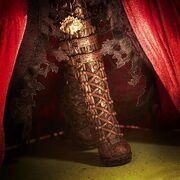 Edit: The facebook page most of them are from are the Ever After High Mexico page. Only the book has been posted on the English, so the American EAH page is behind.
Ad blocker interference detected!
Wikia is a free-to-use site that makes money from advertising. We have a modified experience for viewers using ad blockers

Wikia is not accessible if you've made further modifications. Remove the custom ad blocker rule(s) and the page will load as expected.