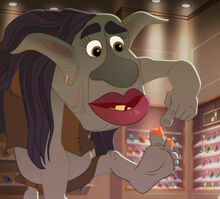 The troll girl is a character from Ever After High.
Contents
History
As people step onto the bridge, the Troll asks, "Who dares to cross my bridge?". The automatic response for girls is, "an innocent girl with no ill intent". The replies comes as, "Leave the toll and be quick!". Coins are then left on the bridge post and the payees are free to cross.
Personality
The Troll Girl is looking for love and likes girly things, like shoes. She has a deep gravelly voice.
Appearance
She wears a brown handmade top and brown handmade skirt. She has long, dark purple hair and brown/grey skin. Her eyes are brown and she wears small hoop earrings, red lipstick and has long eye lashes. She has uneven teeth.
Romance
She is dating with Bridge Troll.
Ad blocker interference detected!
Wikia is a free-to-use site that makes money from advertising. We have a modified experience for viewers using ad blockers

Wikia is not accessible if you've made further modifications. Remove the custom ad blocker rule(s) and the page will load as expected.