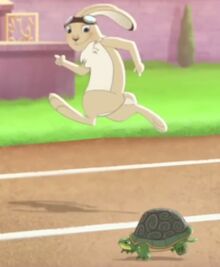 The Tortoise and The Hare are characters who appears on Ever After High. They are the main characters from Aesop's fable with same name.
Character
Appearance
They are animals, a tortoise and a hare. The hare wear racing glasses.
Personality
The tortoise is calm and patient, while the hare likes to appear and debaucher of the tortoise.
Cartoon
The Tortoise one of the Enchanted Forest's animals. Class Confusion Apple White and Ashlynn Ella have a drink together and a the Hare hops up to Ashlynn's side, giving her an invitation to an exclusive Forest Fest. An Hexclusive Invitation Cerise Hood dashes past the Tortoise and the Hare and wins first place in Track and Shield. Tri-Castle-On
Fairy Tale
Main article: The Tortoise and the Hare
Gallery
Ad blocker interference detected!
Wikia is a free-to-use site that makes money from advertising. We have a modified experience for viewers using ad blockers

Wikia is not accessible if you've made further modifications. Remove the custom ad blocker rule(s) and the page will load as expected.