Thumbelina is the main character in the fairy tale with same name. She is also the mother of Nina Thumbell. She signed the Storybook of Legends is a unknown time before Raven Queen's Legacy Year.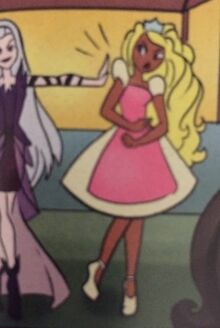 Character
Appearance
Like her daughter, she is a short woman. She have blonde hair and dark skin.
Relationships
Family
She is the mother of Nina Thumbell.
Fairy Tale
Main article: Thumbelina
Books
Ever After High (I)
In The Storybook of Legends was the tiny scrawl of the Thumbelina. The Storybook of Legends
Class of Classics
She appears as a background in Class of Classics graphic novel.