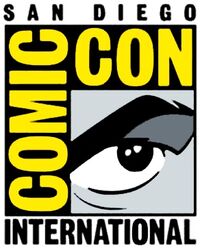 At San Diego Comic-Con International, usually one of the rewards for visiting the stands and attending events is access to exclusive merchandise. With Ever After High High's presence at the convention, it is no different. The highlight of exclusive Ever After High High merchandise to obtain is the yearly exclusive doll, but it's far from the only thing. Tote bags are a recurring piece of merchandise too, but everything else is changed each year.
2014
Main article: Cerise Wolf
The exclusive of 2014 is Cerise Wolf, the what if counterpart of Cerise Hood.
2015
Main article: Raven Queen
The exclusive of 2015 is Raven Queen, The Evil Queen.
Dolls available for display are 'Heartstruck' C.A. Cupid, 'Royally Ever After' Apple White, and a 17'' 'Signature - Rebels' Madeline Hatter doll.
2016
Main article: Cedar Wood
The exclusive of 2016 is Cedar Wood, as a puppet.
Ad blocker interference detected!
Wikia is a free-to-use site that makes money from advertising. We have a modified experience for viewers using ad blockers

Wikia is not accessible if you've made further modifications. Remove the custom ad blocker rule(s) and the page will load as expected.