To better cover the various aspects of the subject matter, this article has been split into one main page and several subpages. Select which one you wish to read.
Playsets
Back To School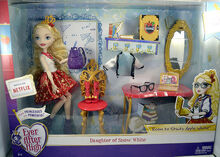 Big pieces: This playset comes with an apple red desk with gold legs, a gold chair with a red cushion and vine texture. It also comes with a gold mirror that can be propped up.
Small pieces: A small gold laptop, a gold book (Which is similar to the Lizzie Hearts Spring Unspring Book Playset), a spare pair of red and gold shoes, as well as a purple backpack.
Notes: The Back to School Playset does come with a doll, Apple White.