To better cover the various aspects of the subject matter, this article has been split into one main page and several subpages. Select which one you wish to read.
Playsets
Epic Winter Sparklizer Playset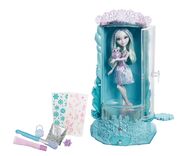 Big pieces: A sparklizer playset, decorated with snowflake and ice shard designs.
Small pieces: Sticker sheets, a bag of glitter, a brush, a child-sized ring, a snowflake-shaped purse, and an owl figure.
Notes: The Epic Winter Sparklizer Playset comes with a Crystal Winter doll.
Ad blocker interference detected!
Wikia is a free-to-use site that makes money from advertising. We have a modified experience for viewers using ad blockers

Wikia is not accessible if you've made further modifications. Remove the custom ad blocker rule(s) and the page will load as expected.