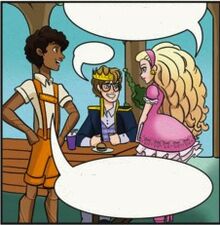 Pinocchio is the previous main character of the "Adventures of Pinocchio" fairy tale. He's also the father of Cedar Wood. He asked the Blue-Haired Fairy that Cedar be cursed to tell only the truth.
Character
Appearance
He's a brown-skinned man, with dark hair. He wears a white shirt and orange shorts with suspenders.
Personality
He used to be a liar and a disobedient boy when he was young, but now he really prioritizes the truth.
Interests
He's now working at his father's wood shop. His favorites foods are bread, fruitcake, sardines and humble pie, which can be bought at Old Mother Hubbard's market.
Relationships
Family
He is the son of Gepetto, and the father of Cedar Wood. He considers Blue-Haired Fairy like a mother.
Friends
When he was young, he was friends with
King Charming
. Now he and Raven's dad, the
Good King
, are friends.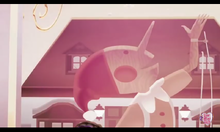 Books
Cedar Wood and her father, Pinocchio, host a visit from Raven Queen and the Good King. Raven Queen's Story He went down the stairs, said "good morning" to Cedar and kissed the top of her head. So Pinocchio and his father, Gepetto, along with his daughter Cedar have breakfast. Cedar Wood's Story He comforts King Charming because of his crush on Goldilocks. The Class of Classics
Fairy Tale
Main article: The Adventures of Pinocchio
Ad blocker interference detected!
Wikia is a free-to-use site that makes money from advertising. We have a modified experience for viewers using ad blockers

Wikia is not accessible if you've made further modifications. Remove the custom ad blocker rule(s) and the page will load as expected.