Peggy/Philia is C.A. Cupid's pegasus companion. They met when the second-year students summoned animal companions in the Enchanted Forest.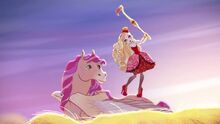 Timeline
Notes
Philia is the name used for C.A. Cupid's pegasus in the "Ever After High Yearbook" by Scholastic.
Peggy is the name used for C.A. Cupid's pegasus on her Thronecoming box and in "Fairy's Got Talent" by Suzanne Selfors.
"Philia" is an ancient Greek word which roughly translates to "friendship" and is one of the four Greek words for love.
Ad blocker interference detected!
Wikia is a free-to-use site that makes money from advertising. We have a modified experience for viewers using ad blockers

Wikia is not accessible if you've made further modifications. Remove the custom ad blocker rule(s) and the page will load as expected.