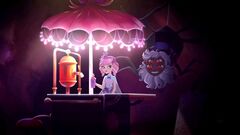 Mister Spider is a giant spider who appeared in Baking and Entering. He is the spider fom the nursery rhyme, "Little Miss Muffet".
Character
He serves as Miss Muffet's helper, telling about free web access to customers of the frozen yogurt bar.
Appearance
He is a giant white-haired spider who wears two pairs of glasses, a top hat and a shirt that fits his number of legs.
Personality
He is a helpful spider, who is mistakenly avoided because of his appearance.
Relationships
Friends
He and Miss Muffet are friends and colleagues.
Fairy Tale
He is the spider from the "Little Miss Muffet" nursery rhyme.
Ad blocker interference detected!
Wikia is a free-to-use site that makes money from advertising. We have a modified experience for viewers using ad blockers

Wikia is not accessible if you've made further modifications. Remove the custom ad blocker rule(s) and the page will load as expected.