Mr. Grimm is the father of Milton Grimm and Giles Grimm. He made his appearances in the flashbacks on Thronecoming (TV special). He is one of the previous Brothers Grimm, he is also responsible for collecting and organizing all fairytales.
Character
Personality
In the flashback he was a loving father to his children and love telling stories he also collected a bunch of fairy tales from his story.
Appearance
He was shown wearing a green coat and black pants with black shoes and a white button t-shirt in his formal clothes.
Relationships
Family
He is the father of Milton Grimm and Giles Grimm
Cartoon
He makes his appearances in a flashback when Giles Grimm was looking at his picture of his brother when he what's going back into the house to learn his father what happened to his brother. Thronecoming (TV special)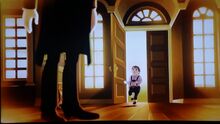 Ad blocker interference detected!
Wikia is a free-to-use site that makes money from advertising. We have a modified experience for viewers using ad blockers

Wikia is not accessible if you've made further modifications. Remove the custom ad blocker rule(s) and the page will load as expected.