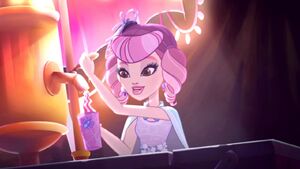 Miss Muffet is from the nursery rhyme Little Miss Muffet. She apparently owns a frozen yogurt business along with the spider from her story in the middle of the Dark Forest.
Character
Appearance
She has soft pink hair with curled bangs and two corkscrew pigtails on each side of her head. She has brown eyes and thin pink eyebrows. She wears a blue insect wing shaped cape, and wears little tuffet earrings. She also wears a blue bow on her chest and a lilac shirt. Her skirt is dark blue and she has a flower belt. On her head she wears a little bonnet with feathers that looks like a spider.
Fairy tale
Main article: Little Miss Muffet
Cartoon
Chapter 3
Webisodes
Miss Muffet proposes on serving the girls frozen yogurt but they get scared off by a giant spider. Baking and Entering
Chapter 4
Miss Muffet attends Hunter's outdoor party. A Tale of Two Parties
Chapter 4
TV specials
Miss Muffet watches the Dragon Games. Dragon Games
Ad blocker interference detected!
Wikia is a free-to-use site that makes money from advertising. We have a modified experience for viewers using ad blockers

Wikia is not accessible if you've made further modifications. Remove the custom ad blocker rule(s) and the page will load as expected.