To better cover the various aspects of the subject matter, this article has been split into one main page and several subpages. Select which one you wish to read.
Melody Piper was trademarked on July 08, 2013. As of October 17, 2015, her doll number totals 1 and makes up 1.08% of the entire Ever After High doll collection. No other merchandise of her is available.
Dolls
Signature - Rebels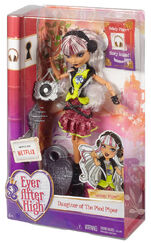 Doll: Melody has white wavy long hair with magenta steaks on her fringe and sides of her hair. She has tan skin and brown eyebrows, and wears sharp neon pink and purple makeup and dark red lips. Her eyes are lilac and she has a marking on her left leg.
Clothes: Melody wears a mini mermaid-style peplum cut in the middle of her skirt. Her top is neon yellow with musical note print, and her skirt is a light magenta color with pale pink swirls. She wears a black vest with silver lining, and matching black wedge heels.
Accessories: She accessorizes with a silver turntable bag, her signature black headphones, a crisscross stud wrap around her skirt and a few black bangles.
Extras: Silver stand, brush and a diary.
Notes: Her eyes appear blue in the stock photo, but they are lilac on the doll. The stock photo also uses a different headmold from the one on the released doll.
Notes
| | |
| --- | --- |
| | |
In the Ever After High cartoon, such as both webisodes and TV specials, Melody wears black stockings that appear to have the black, musical tattoo-marking on the left leg design rather than a real tattoo in her 'Signature - Rebels' cartoon outfit, as of the doll, she has a real tattoo or birth mark on her leg and no stockings, as shown in "A Tale of Two Parties", she literally has no mark or anything on her left leg at all.
Melody has a Thronecoming design featured in the special of the same name, and again in "A Tale of Two Parties". However, it is not yet confirmed to be made as a doll. Melody has her hair layered and teased on top of her head and light eye makeup. She wears a droopy-sleeved purple top with yellow musical notes, a gray two tiered skirt, and purple knee length boots with black buckles. She accessorizes with an amplified version of her normal headphones, fingerless purple gloves which stretch arm-length and a black musical note necklace.
Melody has a Dragon Games design, but it is not confirmed to made as a doll. Melody wears her hair in a high ponytail with her fringe pushed back and a thin braid at the side of her head. She wears a neon yellow tank top, black leggings with cutout designs, a purple train with flower designs, and black and purple shoes with gold heels. She has silver shoulder armor with neon accents and a matching waist piece. She also wears a metallic cut-out bracer and matching earrings.