To better cover the various aspects of the subject matter, this article has been split into one main page and several subpages. Select which one you wish to read.
Melody Piper debuted in the cartoon series in the Chapter 2 TV special "True Hearts Day", which premiered on February 09, 2014. She is voiced by Laura Bailey from Chapter 2 and Chapter 4 onwards by Karen Strassman in the English version of the cartoon.
Chapter 2
Webisodes
Melody deejays at the True Hearts Day dance.
True Hearts Day Part 3
Melody listens to music on her
MirrorPad
in the study lounge.
The Beautiful Truth
Melody downloads music off the MirrorNet.
MirrorNet Down
Melody announces the Thronecoming Queen.
And the Thronecoming Queen is...
TV specials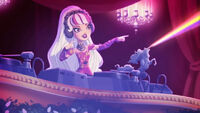 Melody deejays at the True Hearts Day dance.
True Hearts Day
Melody deejays at the Thronecoming dance and hands it over to
Dexter
and
Humphrey
to announce the Thronecoming winners. Unfortunately, they mix up the votes so she encourages everyone to keep on voting.
Thronecoming
Chapter 3
Webisodes
Melody attends the Forest Fest. Faybelle's Choice She attends the class field trip to the Legacy Orchard. The Legacy Orchard Melody walks around. Rosabella and the Beasts Melody watches the sporting events at the bleachers. Tri-Castle-On
TV specials
Melody attends the Spring Fairest. Spring Unsprung Melody has breakfast in the castleteria. Way Too Wonderland
Chapter 4
Webisodes
Melody walks into Dance Class-ic with
Blondie
. She finds
Justine
sleeping and wakes her up to talk.
Moonlight Mystery
It starts at Muse-ic Class and Mr
Pied Piper
assigns his students to perform 'malotic manipulation' on animals.
Hunter
is up first and he brings along with him, a bowl of walnuts and his pet squirrel,
Pesky
. Mr Piper then called his daughter, Melody Piper to the front. She went with the classic rat maze idea. She would guide the rat with her flute and at first it is going great but Melody decides to bring out her turntables. Her father isn't confident she can control the rat that way but Melody's very confident. When she starts playing, the rat starts moon walking but ends up slamming into a wall. Melody was disappointed that her plan failed but she soon realised that she had made everyone in school dance. Melody had no idea how to reverse what she had done but her father did. She had to make everyone dance together in complete harmony. Melody knows what to do and with the help of
Raven
's magic, her turntables are floating in the air. With that, she starts playing and everyone stopped for a moment and starts dancing again but that time, everyone was dancing together. Melody decides to take the party out in the hallways. She was above the steps and everyone in school was dancing together. Once the curse was broken, people still wanted more and Melody continued playing the tunes. Melody's father makes his way beside his daughter with her rat maze to tell her how proud he is and that she earns herself an A+ in Muse-ic class.
Piping Hot Beats
TV specials
Melody takes part in the Dragon Games and is part of the
Evil Queen
's team. She is one of the students able to escape the evil school and she attends
Apple
's funeral. Melody and
Blondie
share a dragon in their flight back to school.
Dragon Games
Gallery
Webisode gallery
TV special gallery
Notes
Melody Piper's profile art on her doll and doll box depicts her having bright blue eyes instead of brown eyes, even though in the cartoon she has brown eyes.
Ad blocker interference detected!
Wikia is a free-to-use site that makes money from advertising. We have a modified experience for viewers using ad blockers

Wikia is not accessible if you've made further modifications. Remove the custom ad blocker rule(s) and the page will load as expected.