| | |
| --- | --- |
| | To better cover the various aspects of the subject matter, this article has been split into one main page and several subpages. Select which one you wish to read. |

Chaos is keeping people guessing - and that makes this kitty purr...

— Kitty in "Kitty's Curious Tale".
Kitty Cheshire is the daughter of the Cheshire Cat, the character from Alice's Adventures in Wonderland.
Portrayers
In English, Kitty Cheshire is voiced by Bekka Prewitt.
Character
Personality
Like her father, Kitty has a penchant for mischief. But she's usually smiling, even when she's annoyed. Having the same 4th wall perks as Madeline Hatter, she too has the ability to hear the Narrators.  
Appearance
Kitty has lavender hair pulled into curly twintails, sleek blue eyes with cat-like pupils and fair skin. She wears maroon lipstick and has pointy blue nails.
Fairy tale
Main article: Alice's Adventures in Wonderland
Relationships
Family
Her father is the Cheshire Cat.
Friends
Kitty considers fellow Royal Lizzie Hearts her best friend and as close as a sister. Madeline Hatter is her roommate and also a fellow Wonderlandian, so she likely gets along with her too.
Pet
Kitty has a pet caterpillar named Carrolloo and a few cats.
Outfits
Signature - Rebels
Kitty wears a white shirt with a purple damask pattern and black sleeves, and a tan fur collar fastened with blue ribbon. She wears a dark purple skirt over lavender leggings with purple stripes similar to the Cheshire Cat's markings. Her shoes are white and lavender wedge heels, and she wears a hat resembling the Cheshire Cat on her head. She accessorizes with blue yarn earrings.
Legacy Day
For her pledge, Kitty wears a lavender dress, decorated with polkadots and purple fur trimming along the sleeves and collar. She also wears a black, lace patterned cat ear headband with a small black bow on one of the ears along with a netted veil. In A Tale of Two Tales, she no longer has the netted veil in her outfit.
Getting Fairest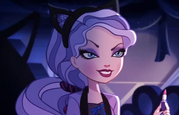 As Kitty gets fairest for the True Hearts Day dance, she wears a lavender jacket with a black collar, and a pale maroon layered shirt with a blue ribbon in the center of it. She accessorizes with a fishnet cat ears headband, and has her hair held in a low ponytail with a midnight blue and pink striped hair tie with small pink yarn balls.
Hat-Tastic Party

Kitty has her hair in droopy bangs above her eye and a bun. She wears a white shirt with a purple top and tie and a varied purple skirt with zigzag patterns and tea pots. She wears grape purple gloves with blue fur, ocean blue leggings and grape purple shoes. She accessorizes with a large cat hat, long yarn ball earrings and several bow ties.
Timeline
Book
Kitty plays basketball in the first Grimmnastics class. She sits above the hoop and eats the pastries herself. The Storybook of Legends
Gallery