O mal değil
Dolls
Signature - Royals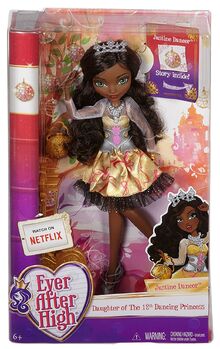 Doll: Justine has long and wavy dark brown hair, bright emerald eyes and brown eyebrows. She has glittery orange and bright yellow eyeshadow and vibrant red lips.
Clothes: Justine wears a casual cream yellow chiffon dress with translucent white sleeves and red ribbon patterns plus a black glittery trim on her skirt. She has a silver corset with pink painted jewels in the center. She wears metallic silver open-toed heels.
Accessories: Her accessories are a small silver headband in the shape of a thin crown, a matching silver necklace, a gold wrist bracelet and a small gold purse.
Extras: Gold stand, brush and a diary.
Notes: The paint on her corset is black in the stock photo, but pink on the released doll.