To better cover the various aspects of the subject matter, this article has been split into one main page and several subpages. Select which one you wish to read.
Jillian Beanstalk was trademarked on March 05, 2014. As of April 12, 2016, her doll number totals 0 and makes up 0 of the entire Ever After High doll collection. No other merchandise of her is available.
Dolls
Signature - Rebels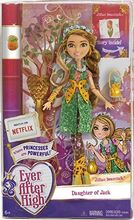 Doll: Jillian has tan skin, brown eyes and pink lips. Her brown hair is streaked with lime green and is fashioned into a big braid running down her back.
Clothes:
Accessories:
Extras:
Notes: This doll was available Early June, 2016 only on Brazil.
Notes
Jillian has slightly darker skin in the TV special "Dragon Games".