Jack and Jill is a nursery rhyme from Mother Goose fairy tale is ( sometimes called Jack and Gill ) in the early version of the story is translated in English for Jack and Jill in the nursery rhyme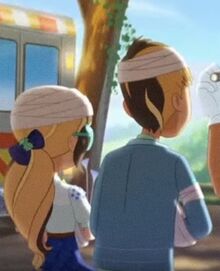 Lyrics
Jack and Jill went up the hill To fetch a pail of water Jack fell down and broke his crown, And Jill came tumbling after
Up Jack got, and home did trot As fast as he could caper; To old Dame Dob, who patched his nob With vinegar and brown paper.
Then Jill came in, and she did grin, To see Jack's paper plaster; Her mother whipt her, across her knee, For laughing at Jack's disaster.
Successor
Jack and Jill : Children of Jack and Jill
Ad blocker interference detected!
Wikia is a free-to-use site that makes money from advertising. We have a modified experience for viewers using ad blockers

Wikia is not accessible if you've made further modifications. Remove the custom ad blocker rule(s) and the page will load as expected.