Hopper Croakington II
Comments

0
302pages on
this wiki
| | |
| --- | --- |
| | To better cover the various aspects of the subject matter, this article has been split into one main page and several subpages. Select which one you wish to read. |
Hopper Croakington II is a 2013-introduced and fiction-only character. He is part of The Frog Prince as the next frog prince, and he is a student at Ever After High. In the destiny conflict, he is on the Royal side because of yet unrevealed reasons.
Portrayers
In English, Hopper Croakington II is voiced by Cam Clarke.
Character
Personality
Hopper has essentially two personalities: he is debonair in frog form, while his human form brings out the pushy and awkward in him. This results in a much repeated circle of his frog self charming ladies, who then kiss him, turning him human, at which point his awfulness prompts his change back into a frog. Hopper is well-aware of his 'quirk' and laments the sorry state of his existence.
Appearance
Hopper has reddish-brown hair, green eyes, pale skin and freckles.
Fairy tale
Main article: The Frog Prince
Relationships
Family
He is the son of the Frog Prince.
Friends
C.A. Cupid takes some pity on Hopper's state and works to help him. Furthermore, it seems he appreciates the company of fellow princes Daring and Dexter Charming.
Pet
In The Storybook of Legends, Hopper acquires a pet dragonfly who can breathe fire.
Romance
Hopper is crazy about Briar Beauty, who does not return the affection to his human form, but is somewhat impressed by the charm of his frog form, though she is unaware that the two personalities are linked to his forms.
Outfits
Signature - Royals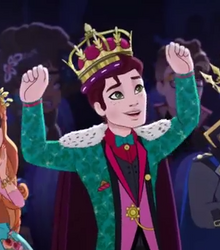 Hopper wears a white shirt and a pink vest under a red dinner jacket with gold embroidery and black trim. He also wears cargo shorts, leather shoes, and green socks. In both human form and frog form, he wears a red bow tie and his tiny crown.
Legacy Day
For his pledge, Hopper wears a three piece suit with a red shirt, green bow tie, black vest, and green coat. Over this, he wears a fur-trimmed cape. His accessories include a larger crown and a gold medal.
Timeline
Book
Hopper passes by the Muse-ic room and takes offense when Raven Queen calls Sparrow Hood and his Merry Men a bunch of toads. Hopper attends Briar Beauty's Book-to-School party. During Heroics 101, Hopper accidentally turns into a frog and gets captured by a swamp witch. Hopper plays basketball in the first Grimmnastics class. He quickly loses his basket and turns into a frog. The Storybook of Legends