To better cover the various aspects of the subject matter, this article has been split into one main page and several subpages. Select which one you wish to read.
Ginger Breadhouse was trademarked on May 19, 2014 and her first doll came out in Late 2014. As of October 01, 2015, her doll number totals 2 and makes up 2.24% of the entire Ever After High doll collection. No other merchandise of her is available.
Dolls
Signature - Rebels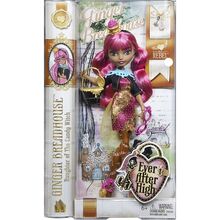 Doll: She has brown skin, hazel-brown eyes, shiny pink lips and layered purple eyeshadow.
Clothes: Ginger wears a slim, multicolored and textured-candy frock. Mostly, what is on her dress is based off a gingerbreadman. She has a yellow tail flap at the back of her dress. She has hot pink glasses with designs on the glasses rims. She wears a dark blue biker-style jacket. Ginger wears a gingerbread-based pair of stockings with pink-and-gold candy-themed shoes.
Accessories: She accessorizes with a hot pink headband with a cupcake on top, a blue bead necklace and a black cauldron-shaped bag.
Extras: Black stand, brush and a diary.
Notes: The bangle and ring shown in the stockphoto are not present on the actual doll, her bead necklace is blue, and the stand and brush are black.
Sugar Coated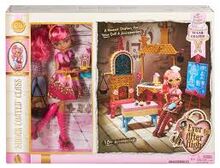 Doll: Ginger has elbow-length pink hair styled into a high ponytail with straight bangs. She has silver eye shadow and pink lips.
Clothes: She wears a pink top with ruffled sleeves and a gingerbread vest with buttons. Her skirt is pink with gingerbreadman-print, gumdrops, a pink dripping belt, and also has yellow and dark pink colors on it. She wears long pink boots with beads and a chocolate drip pattern on the toes.
Accessories: Ginger accessorizes with a gold headband with a poofy white chef's hat on it, a pair of gold glasses, gingerbreadman earrings, a dark pink ring, and a gold bracelet.
Extras: Ginger does not come with a brush or stand.
Notes: This doll is only available with the Sugar Coated Class playset.
Book Party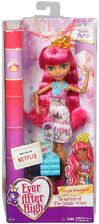 Doll: Ginger's hair is let down with long and wavy curls. She has glossy pink lipstick and bright pink makeup. There are a few maroon dots on the edge of her eyes.
Clothes: She wears a pink one piece. The top of her dress is holo pink and the rest of it is in a book pattern with a blend of sprinkles. She wears bright pink heels.
Accessories: Ginger accessorizes with a gold headband, a white book necklace, and a blue handbag.
Extras: Gold stand and brush.
Notes: In the stockphoto her necklace is white but in the doll release it is blue.
Playsets
For organizational purposes, information on the playsets associated with Ginger Breadhouse, either because the playsets are made for their dolls or because one of their dolls is included with them, is only available elsewhere on the Ever After High Wiki.