To better cover the various aspects of the subject matter, this article has been split into one main page and several subpages. Select which one you wish to read.
Faybelle Thorn was trademarked on November 20, 2013 and her first doll came out in early 2015. As of October 01, 2015, her doll number totals 1 and makes up 1.12% of the entire Ever After High doll collection. No other merchandise of her is available.
Dolls
Signature - Royals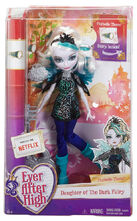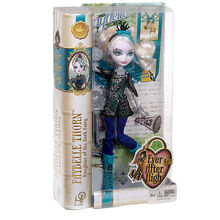 Doll: Faybelle has pale gray skin that sparkles, gray eyebrows and periwinkle eyes. She wears turquoise eye makeup with a petal design around her right eye. She has glossy-pink lips. Her hair is platinum blonde and tied up in a high ponytail, predominantly on the left side. Her hair is parted to the right, where a curly turquoise streak is present. She has translucent turquoise wings.
Clothes: Faybelle wears a cloudy black shawl, with a honeycomb pattern. She wears a tunic which is transparent on the top with fern patterns. These patterns are done in blue, turquoise and silver sequins. Faybelle wears midnight blue leggings and teal heeled boots with vine patterns on the heel. The boots have black laces.
Accessories: She accessorizes with a teal bow headband with black thorns coming out of it and a silver bracelet with a flower cameo ring, dangling silver earrings shaped as twigs/wands as well as a silver tasseled handbag, shaped like a cheerleading pompom.
Extras: Silver stand, brush and a diary.
Notes: The are some differences between the doll released and the stockphoto. The shoemold on the stockphoto shows laces tied around the boot, but the laces on the doll's boot are tied at the top. Faybelle's neckpiece is black in the stockphoto but on the doll it is silver. The stockphoto shows the bottom half of her bag painted dark blue, but it is not painted on the doll. The brush and doll stand are shown to be gold in the stockphoto, but on the doll they are actually silver.
Notes
Faybelle has a Fairest on Ice design which was featured in the webisode with the same name in Chapter 3. She has her same hairstyle as her "Signature - Royals" web design. She wears a woolly holo shoal and a full tulle mini dress. Her shirt is a glittery silver color while her tulle skirt is wispy blue, green, and purple with glitters at the bottom. Faybelle accessorizes with a full-head silver crown, diamond-shaped blue earrings, a thin thorn belt, an ice crystal necklace, and a long snowflake necklace.
Faybelle has a Thronecoming design, which was featured in the Chapter 4 webisode A Tale of Two Parties. She wears her hair up in a higher ponytail, rather than the same "Signature - Royals" as the Fairest on Ice design. She also has her hair parted much more differently, and it appears that she has different or larger wings. She wears an outfit similar to her "Signature - Royals" outfit in style and other type of appearance, which is a teal and turquoise and blue dress with a look that looks almost sleeveless, but with short, trimmed-looking sleeves, and the bottom appears to be cut-out-opening designed. She wears a necklace or collar-piece that is silver to almost black, similar to what her choker looks like in her webisode concept of her "Signature - Royals" outfit. Her sleeves resemble thorns. She has a hair-lining chain thing from her hair to her forehead, and black, thorned, heeled shoes that are identical to Briar Beauty's 'Spring Unsprung' shoes, and a black, flower-thorn-patterned, longish arm bracelet or bangle on her right arm and wrist.

Faybelle has an Epic Winter design, which was appeared in the TV special of the same name in Chapter 4. She wears her hair much longer and all wavy, while sporting a sweater white snow coat dress with blue sleeves, long of course, that are specifically dark blue, with a fluffy light blue collar, a middle-length skirt, with trimming on the bottom, pale blue-gray leggings, and tall, dark blue boots that have ice blue heels, and icy blue strings with deep blue pom-poms on the sides of them.