To better cover the various aspects of the subject matter, this article has been split into one main page and several subpages. Select which one you wish to read.
Farrah Goodfairy was trademarked on October 13, 2014. As of October 17, 2015, her doll number totals 1 and makes up 1.08 of the entire Ever After High doll collection. No other merchandise of her is available.
Dolls
Signature - Royals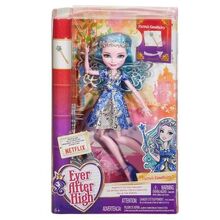 Doll: Farrah has bright blue hair with a few purple streaks on the right side of her head. She has sparkling pink skin, brown eyebrows, blue eyes and pale yellow eyeshadow. She also has a star design on her cheek and bright pink lips.
Clothes: Farrah wears a dark blue dress. Her overskirt has a light blue arabesque pattern and silver gemstone embellishments and matches the top portion of her dress. Her underskirt skirt features a similar pattern in silver.
Accessories: Farrah accessorizes with a starry silver headband and a matching necklace. Her wand is a matching color to her shoes and is translucent. She has large silver wings on her back. She wears crystalline dark blue heels with stars and pumpkins.
Extras: Silver stand, brush, and a diary.
Notes: There is nothing of note about this doll's availability or stockphoto.