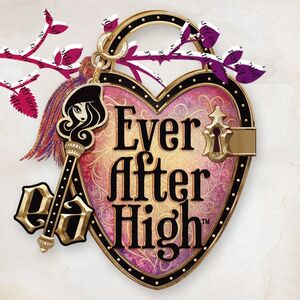 The Ever After High Facebook account is the second of the social media accounts Mattel made to support the franchise. It is unknown when the account was made, since Mattel made it so that the registration date reads 1812 as part of the franchise's mythology, but it likely happened in 2012. The account was put to use on May 30, 2013.
Its intro text reads: "Fairytales have existed for thousands of years, inspiring imaginations around the world. Certain stories were so spellbinding, they were passed down to new generations. But there was nowhere to teach the teenage sons and daughters of famous fairytales to follow in their parents' fabled footsteps. That is until 1812, when the Grimm brothers opened the doors to Ever After High – a high school where the next generation of fairytales learned to live their legacy. Class schedules specific for each fairytale were handed out – from Princessology for royal legacies to History of Evil Spells for villain legacies. Headmaster Milton Grimm, who currently runs Ever After High, believes the future of fairytales relies on all students fully embracing their prewritten destiny today to become a legend of tomorrow."
The Ever After High Facebook account receives about an update irregularly, but about once per half a week. So far, its posts are still limited to introducing Ever After High rather than expanding it. Its information section additionally includes a few profiles.
Stories
Story
Date
Welcome to the world of Ever After High. This isn't your mother's fairytale. You choose your destiny.Gallery
May 30, 2013
Your future is more than fate. Are you a royal or a rebel?
May 30, 2013
Think you know fairytales? Think again.Gallery
May 31, 2013
Your story is your story. No one else's.Gallery
June 7, 2013
"I'm not about to drop the crown on my royal destiny." – AppleGallery
June 12, 2013
"Not to be a drama queen; I just think everyone deserves to write their own Happily Ever After!" – RavenGallery
June 14, 2013
"My story. My rules. Am I right?" – Raven
June 19, 2013
"Trusting what's ahead is a total gift! Just think of the fableous things we can do with our destinies." – Apple
June 19, 2013
The Ever After Royals hope to put their best foot forward in the Forever After Reveal! Hex in daily beginning 6/24 to discover the whole story behind these best friends forever after.Gallery
June 20, 2015
The Ever After Rebels can't wait to introduce themselves to you, beginning 6/24. Are you getting mother-goosebumps just thinking about it?Gallery
June 21, 2013
Some girls are ready to conjure their own destiny (with a hexquisite black & silver clutch, of course). Hex back soon to discover more about this rebellious leader.Gallery
June 24, 2013
While Raven Queen doesn't embrace her storybook destiny, she is still her mother's daughter when it comes to her wicked cool style. Raven rocks an iconic high collar and lux purple and black hues.Gallery
June 24, 2013
This is just the beginning…Raven is the first in a long line of teenage fairytales to be revealed. The Forever After Reveal continues tomorrow with a sneak peek at the fairest one in Ever After's halls.
June 24, 2013
Walk a mile in her apple red heels and you'll see that this Queen Bee takes her royal responsibilities (and fableous fashion) seriously.Gallery
June 25, 2013
You can always count on Apple White to be the total talk of the crown.Gallery
June 25, 2013
If you think Apple's look is spellbinding, tune in tomorrow for a sneak peek at one of her Royal friends 'til THE END as the Forever After Reveal continues.
June 25, 2013
Ever After High's social "it" girl carries this charming purse (that doubles as a pillow for spontaneous naps).Gallery
June 26, 2013
Happily Ever After may be in her future, but Briar Beauty prefers to live in the moment. Wouldn't you, if you were fated to face 100 years of beauty sleep?Gallery
June 26, 2013
There's only one fairytale left in this Forever After Reveal! Can you guess which tea-riffic girl will reveal herself tomorrow?
June 26, 2013
Trust a Rebel when she tells you... this Wonderlandian's Riddlish ramblings should never be dismissed. Now don't disappear down the rabbit hole, because her full reveal is a moment away.Gallery
June 27, 2013
Tip your hat for the tea-drinking, riddle-speaking Madeline Hatter in her wonderlicious, tea-inspired look!Gallery
June 27, 2013
If this week's Forever After Reveal had you saying "Oh My Godmother," you're so not alone! Which of these spellbinding students has a style that most resembles your own?Gallery
June 28, 2013
A secret date is even more enchanting than a new pair of shoes!Gallery
July 5, 2013
Royals and Rebels alike are totally spellbound by today's announcement from Headmaster Grimm! "Ever After High: The Storybook of Legends" by Shannon Hale will be available anywhere books are sold on October 8, 2013.Gallery
July 16, 2013
Can you even believe that Dexter and Daring are brothers? These Royal siblings may share blood, but their taste in Future Queens couldn't be more different.Gallery
July 20, 2013
Our Forever After Reveal continues!

Putting her best foot forward is easy in these slippers, especially when you have a hero walking by your side.Gallery

July 23, 2013
You can always count on this dashing woodsman to have a tissue in his messenger bag for all impending "damsel-in-distress" moments.Gallery
July 24, 2013
Don't judge this book by its ruggedly handsome exterior! Hunter Huntsman may be headed toward a wild destiny, but his heart is made of gold.Gallery
July 24, 2013
You don't have to wait 'til the clock strikes midnight for this stylin' siren's final reveal, it's coming up in a spell!Gallery
July 25, 2013
Ashlynn Ella is no stranger to a little hard work. Keeping tabs on her charming shoe collection is an after school job in itself!Gallery
July 25, 2013
A quick peek inside the shoebox reveals this cute couple's royally rebellious secret. Do you think Huntlynn can keep their spellbinding love hidden from the others?Gallery
July 26, 2013
Have you met Tiny, Ever After High's most loveable giant? He's the go-to guy if you need help with any problem, carrying your books or what-ever-after!Gallery
August 2, 2013
An Apple pic a day keeps the kingdom at play! A charming album dedicated to the next destined ruler of the realm.Gallery
August 5, 2013
"I've recently transferred from Monster High to Ever After High. Now that I'm here, I can't wait to discover my destiny!" -C.A. CupidGallery
August 8, 2013
"I'm enchanted to see what this year will hold at my new school. Help students find their Happily Forever Afters? I so have this one in the bag!" - C.A. CupidGallery
August 9, 2013
Go ahead, pick your poison. This album is filled to the brim with all the wicked cool Raven pics you could ever desire.Gallery
August 12, 2013
Cupid has her next arrow set on a storybook romance fit for a frog prince. Don't leap out of your chair waiting for all the spellbinding deets, our next webisode will be revealed tomorrow!Gallery
August 12, 2013
With a fableous mom like Snow White, it's no wonder Apple loves sending scrolls home. From Kingdom Management homework to roommate drama, Snow always gives Apple the most crowning advice.Gallery
August 16, 2013
When destiny deals you a cursed hand there's only one thing to do... tear it up, Briar style! See how this beauty carpe diems every day in this page ripping album.Gallery
August 19, 2013
Dexter has enchanting eyes for Raven, but why can't he notice that Cupid royally hearts him?
August 22, 2013
If you like tea or puzzling out puzzles than you'll be merrier than a dormouse flipping through this hat-tastic album dedicated to Maddie.
August 26, 2013
A step toward destiny is nothing short of spellbinding! See what hexquisite fashion awaits as the Forever After Reveal: Legacy Day Edition continues throughout the day.
August 28, 2013
Some girls won't wake up for anything less than perfect crown-to-toe style. You don't have to wait a century to see these glamour girls' looks come alive! The final Forever After photo will reveal itself in a spell.
August 28, 2013
Destiny is waiting (whatever-after it may be)! Which spellbinding style will you bring to this year's epic Legacy Day ceremony?
August 28, 2013
Hocus focus! These photos of Ever After's friends 'til THE END are seriously spellbinding. Which duo is your favorite? Gallery
September 3, 2013
"Cerise is a wicked cool friend, but there's something about her I can't quite put my finger on. Sometimes she acts like such a lone wolf, but to each their own, right?" - Raven.Gallery
September 4, 2013
Have you met Kitty Cheshire, the somewhat devious, always mischievous, ever-grinning trickster of Wonderland? Get in a good look now, before she disappears.Gallery
September 6, 2013
Here's Lizzie and Maddie without further delay, totally decked out this hat-tastic afternoon for tea and Wonderland croquet!Gallery
September 12, 2013
Midnights will come and go, but a photo album dedicated to your favorite shoe-obsessed princess is forever after.Gallery
September 16, 2013
It's time you joined the script! What do you think makes a Royal a Royal or a Rebel a Rebel?Gallery
September 21, 2013
Feel free to flip through this action-packed album, but prepare to fall for Ever After High's most heroic huntsman.Gallery
September 30, 2013
"There are only two words to describe an interactive video rebellious enough to let YOU rewrite the story… wicked awesome!" - Raven.Gallery
October 3, 2013
A wonderlicious Happy Mad Hatter's Day to all. Take a page from Maddie's topsy-turvy book and celebrate all that is fun and unique to you today!Gallery
October 6, 2013
Today, Ashlynn's spellebrating her birthday with one of her favorite activities…an all-day shoe shopping extravaganza, of course!Gallery
October 15, 2013
The week may be halfway over, but don't run for the woods quite yet! A basket-carrying beauty and a MirrorCast gossip both plan on introducing themselves to you in a Forever After Reveal beginning tomorrow!Gallery​​
October 16, 2013
This is one lone wolf who's a little shy to introduce herself to the pack! Stay tuned to see her finally pull back the hood in today's Forever After Reveal!Gallery
October 17, 2013
My what a ferosh red hood you have, Cerise! Her look is so fierce she might finally be ready to step out of Grandma's house and into the big bad world! Hex back tomorrow for another revealing surprise.Gallery
October 17, 2013
Can't wait to see who's behind today's Forever After Reveal? Have a little patience… she's prepping to make sure her look is Just Right.Gallery
October 18, 2013
Aren't Blondie Lockes' golden curls as sweet as sugar in porridge? Not too big. Not too small. Just…well, right!Gallery
October 18, 2013
"Bo Peep here, ready to give the 411 on my ever fleeting flock. Despite a few minor fairy fails, I fully intend to locate my sheep within the hour. Please report any rogue tail sightings immediately!" – Bo PeepGallery
October 23, 2013
"Life's too short… to only watch this page-ripping video only once!" - Briar Gallery
October 24, 2013
As the biggest day of the year draws near, fairytales everywhere can't help but wonder… will Raven be the most rebellious one of all or will she sign the Storybook of Legends?Gallery
October 27, 2013
Think Ever After High is the total talk of the crown? The fairy frenzy is just getting started now that you can find these hexquisite dolls on major retail store shelves!
October 28, 2013
Cerise isn't much of an attention seeker, but she never lets her Birthday go by without blowing the house down with a good party!Gallery
October 31, 2013
No need to pick any locks! Blondie's life is an open book in this fableous new album dedicated just to her.Gallery
November 4, 2013
"There's only one end to this guy's legendary story – and that's being Prince Charming to the fairest one in the halls. Until then, why deny other ladies a chance to spend some quality time with yours truly?" – Daring CharmingGallery
November 6, 2013
This next Forever After Reveal is a bit of a straight shooter when it comes to matters of the heart. Hex back soon to see her finally step out of the wings and into the spotlight.Gallery
November 7, 2013
Love might be blind, but Cupid knows it never hurts to keep a fableous date-ready outfit like this one on standby!Gallery
November 8, 2013
There may be a basket full of things that are beyond Cerise's control, but my what a big heart she has!Gallery
November 11, 2013
They've had a total ball preparing for Legacy Day and now they're finally ready to blow the house down! The Ever After Royals definitely know how to spellebrate destiny in a page-ripping way.Gallery
November 12, 2013
It's your life, it's your time. Rewrite your story today.Gallery
November 16, 2013
Now that their destinies are just a signature away, the anticipation of Legacy Day is giving some Ever After Rebels a legit case of the mother-goosebumps!Gallery
November 18, 2013
As Raven takes her final steps toward the Legacy Day podium, Apple can't help but wonder… will Raven's choice truly mean THE END of her Happily Ever After?Gallery
November 20, 2013
"I see two outcomes here, sign the Storybook of Legends for title page status or don't sign and totally fade into the end notes! Charm me with your choice... which one would you choose?" -AppleGallery
November 21, 2013
With rebellion in her heart, Raven is about to step up to the podium and take on her next chapter, what-ever-after it may be!Gallery
November 22, 2013
With adorbs bow and arrow cookies for all (decorated in "true love" pink frosting), who doesn't heart celebrating Cupid's birthday every November 24?Gallery
November 24, 2013
Today's wicked awesome surprise party thrown by Raven's friends 'til THE END is so her idea of the perfect birthday spellebration.Gallery
November 25, 2013
How does an apple-loving Princess survive National Eat a Red Apple Day (a holiday dedicated to the one thing she can't resist)? Apple asks Briar to make the Castleteria an apple-free zone so she doesn't totally lose her crown!Gallery
December 1, 2013
"It may sound sappy, but honest hearts build honest actions. I cannot lie, and that means my friends can always count on me to tell it like it is... end of story!" – CedarGallery
December 4, 2013
Gallery