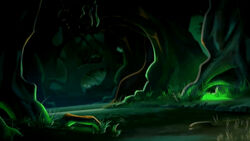 Although described to be not very welcoming in appearance, the Dark Forest is one of the realms of the Fairytale World known for its famous yearly cookouts, as nearby hollows and cottages such as Hood Hollow, attend every year. A number of its residents currently attend Ever After High. It is noted that the residents of Ever After are able to traverse from and back. Other locations like Ogretown are located within the Dark Forest as well. There are also some snack bars located there such as Miss Muffet's Frozen Yogurt Stand.
Cartoon
Faybelle asks Cerise for travel advice and the worst location possible to not get lost in. Cerise's answer is the Dark Forest. Through the Woods As Cupid, Ashlynn, Poppy, and Blondie are still lost in the Dark Forest, Poppy starts to feel hungry and Blondie suggests they follow her to find food. Their first location is a gingerbread house, however Gus and Helga basically mark that their territory. Their next stop is a frozen yogurt stand however the four get frightened off by a spider. Finally, they visit the three bears' house for porridge but they get kicked out in the end. Baking and Entering Cerise wanders around the Dark Forest and finds the three bears standing outside their house somehow talking about Blondie, making her believe that the girls are actually lost. Driving Me Cuckoo
Book
Headmaster Grimm tasks Raven Queen to not only interview Red Riding Hood but also someone with a villainous story, she is required to visit the Candy Witch. The Unfairest of Them All
Population
Below is a list of the confirmed inhabitants of the Dark Forest. Those marked EA are currently living in Ever After.
Ad blocker interference detected!
Wikia is a free-to-use site that makes money from advertising. We have a modified experience for viewers using ad blockers

Wikia is not accessible if you've made further modifications. Remove the custom ad blocker rule(s) and the page will load as expected.