| | |
| --- | --- |
| | To better cover the various aspects of the subject matter, this article has been split into one main page and several subpages. Select which one you wish to read. |
Daring Charming is the son of King Charming.
Portrayers
In English, Daring Charming is voiced by Evan Smith.
In Latin American Spanish, Daring Charming is voiced by Idzi Dutkiewickz.
Character
Personality
For the most part, Daring is his father's son - he is, obviously, quite charming, and handsome. He is a tad egotistical and conceited, very infatuated with his appearance, as he is often seen with a mirror or flashing his smile to girls. He does have some sense of duty though. He is often seen escorting his future queen Apple White and he is well-practiced in gallantry.
Appearance
Daring has blonde hair, white skin, and grey-blue eyes.
Relationships
Family
He is the son of King Charming and has a younger brother named Dexter and a sister named Darling.
Friends
Daring is not confirmed to have any Best Friends Forever After just yet - although he is often seen conversing with other Princes at the school.
Pet
Daring's pet in The Storybook of Legends is a peacock.
Romance
Daring is often seen with Apple White, whom he is destined to be with. He will be the one to wake her with a kiss in the future when the time for their fairy tale rolls around, although for now, it appears they are just friends.
Otherwise, Daring has the admiration of almost every girl in school, the most prominent being Duchess Swan.
Outfits
Basic
He wears princely apparel: an argyle sweater, an Ever After high school Letterman jacket, blue jeans and white shoes with gold on the sides along with a golden crown on his head.
Legacy Day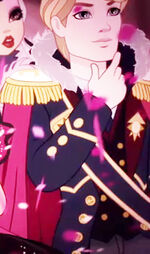 For his pledge, he wears a regal blue military jacket with gold epaulets and a sash over a black double-breasted vest. He also has a red cape and a larger crown.
Timeline