To better cover the various aspects of the subject matter, this article has been split into one main page and several subpages. Select which one you wish to read.
Courtly Jester was trademarked on May 19, 2014. As of October 01, 2015, her doll number totals 0 and makes up 0% of the Ever After High doll collection. No other merchandise of her is available.
Dolls
Way Too Wonderland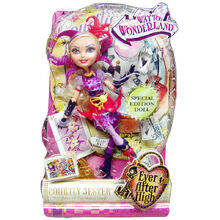 Doll: Courtly has peach skin and short curly, bobby blonde hair hid behind her large joker's collar. It has several purple streaks on a layered fringe on the right side of her face. A white diamond shape is drawn on her left eye. She has arched purple eyebrows, purple eyes, smoky gray eye shadow and bright red lips accompanied with a smile.
Clothes: Courtly wears a large magenta joker collar with bells on each end. She has translucent pastel purple sleeves with glitter, and a multicolored mini dress. Courtly wears a red jester belt with golden chains and multicolored stockings. She has midnight blue boots with a mismatched length, and midnight blue wrist cuffs. Her gloves are colored the same.
Accessories: She accessorizes with a classic red fool's hat, and red diamond-shaped earrings.
Extras: Gold stand and brush. Additionally, this doll comes with a card diary.
Notes: In the stockphoto, Courtly doesn't come with a diary. Each doll of her seems to have a unique dress pattern and on some of the dolls, the color of her leggings vary from left and right.