Cinderella Castle is Ashlynn Ella's home. It is located on a very high mountain and it is the keeping spot for the Spring Rose. It appears in "Epic Winter".
Within the Castle
The castle can be reached by a very long staircase. However, since Cinderella never wanted to lose a shoe again she changed it to escalator.
The Entrance Hall
The entrance hall is a big open room with a grand staircase leading to the first floor. Many windows from the second floor look at it. Large marble pillars hold a stained glass dome in form of a clock.
The Kitchen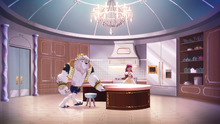 The kitchen is located just down the hall and this is where Rosabella and Daring fall in love.
Cinderella's Shoe Closet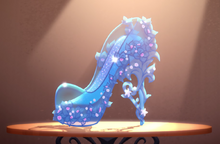 Cinderella owns a very large shoe closet of various levels and a locked vault where she keeps her most prized possession; her glass slipper.
Ad blocker interference detected!
Wikia is a free-to-use site that makes money from advertising. We have a modified experience for viewers using ad blockers

Wikia is not accessible if you've made further modifications. Remove the custom ad blocker rule(s) and the page will load as expected.