To better cover the various aspects of the subject matter, this article has been split into one main page and several subpages. Select which one you wish to read.
Cedar Wood was trademarked on May 14, 2013 and her first doll came out in Mid March, 2014. As of October 01, 2015, her doll number totals 4 and makes up 4.49% of the entire Ever After High doll collection. No other merchandise of her is available.
Dolls
Signature - Rebels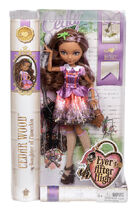 Doll: She has long, curly brown hair with a streaked purple braid and dark pink heart lips. Her skin is akin to wood grain.
Clothes: Cedar wears a purple, peach and black dress, the top half being purple and designed to look like wood grain, she has a white collar with short pink sleeves. Her bottom half is a gradient from peachy pink to black covered in small gold glitter flowers and patterns of purple blooms with small purple diamonds lining the bottom.
Accessories: She has a small brown shoulderbag, covered by designs of leaves and acorns with a long purple braided strap and brown leaves dangling from the bottom. She accessorizes with gold tree stump earrings, a gold donkey, whale and leaf charm bracelet, a blue fairy ring, and a green cricket barrette. She wears open-toe wooden style wedges decorated with leaf patterns with pink straps. Her socks are white knee socks with a purple rim, long purple ribbons are at the front of her socks.
Extras: Black stand, brush, and a diary.
Notes: This doll was re-released in 2015, but is missing her ring, bracelet, earrings, the ribbons on her socks, and her shoe paint detail. Also, her shoes are a darker shade of brown.
Hat-Tastic Party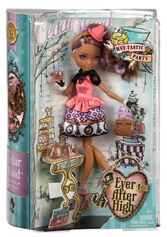 Doll: Cedar has her hair in a high side-ponytail with several lilac streaks. She has lilac eyeshadow and cute pink lips.
Clothes: She wears a textured pink, wood-like top with puffy fishnet sleeves and collar. A ribbon can be seen tied to the front of her shirt. She wears a sectioned-out skirt, the first part being a lilac background tiled with flowers, the last being tea cup patterns with donkey, crickets and fairies, all important to her story. She has painted black hands with tea cup-like cuffs. She wears white fishnet socks and lilac shoes with gold sanding plane heels.
Accessories: She accessorizes with a camellia pink hat with a lilac feather, gold earrings and a wooden purse with puppet cross handle and tea set carved from wood.
Extras: Black stand and brush.
Notes: This doll was re-released in 2015, but she is missing her socks, purse, earrings, lip gloss, and hat paint detail, as well as having her hair loose instead of in a ponytail.
Spring Unsprung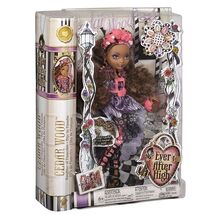 Doll: Cedar has flowing wavy chestnut hair and pastel pink and purple streaks on the left side of her head. She has light purple eyeshadow and pinker lips.
Clothes: She wears a neck collar resembling pink peonies, a coral pink strap with a flower belt, and underneath Cedar wears a texture-patterned dress meant to look like purple bark. Another layer on her dress is a clear layer of simple white flowers. Cedar wears coral pink pants with white peony imprints and black boots with straps and silver flowers on them.
Accessories: She accessorizes with a coral pink flower headband with black and white leaves. She also wears a coral pink ring and black crisscross arm wrap, along with gold flower earrings and a coral pink and brown flower bag. She also comes with a wearable carnation ring.
Extras: Gold stand, brush and a diary.
Notes: There is nothing of note about this doll's availability or stockphoto.
Sugar Coated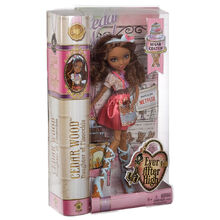 Doll: Cedar has elbow-length chestnut hair. She wears dark, wispy eyeshadow and has lipstick in the shade of flossy-pink.
Clothes: She wears a white poofy-sleeved top with brown tracings of tree bark. Her belt is split into two layers of brown and hot pink icing. She wears a straight red skirt with straight garters and a waffle, sprinkle and bacon-patterned apron on top of it. Her skirt is suspended up her shirt with cotton candy-pink suspenders. She wears ice-blue wedges with straps that go up to her knees. The heel of the wedge is based off an ice cream cone.
Accessories: Cedar accessorizes with a pastel purple necklace and a brown cake with blue icing as well as a ice blue spatula.
Extras: Doll comes with small cake figure.
Notes: There is nothing of note about this doll's availability or stockphoto.
Birthday Ball
Doll: Cedar has straight candy floss-pink hair. Her front hair is braided to the side. She has bright pink lips with a lighter undertone, dark auburn eyebrows, hazelnut-colored eyes, and purple eyeshadow with smoky glitter on her eyelid.
Clothes: Cedar wears a pink shirt with short sleeves capped with a pink mesh hem. The bottom hem of her shirt is lined with gold. Cedar's skirt has two layers. Her first layers are tulle-based embellished with small blue glitters and lined with gold. They are shorter than her second layer and do not completely cover the overall skirt. Cedar's second layer is a longer, more opaque skirt with a curvy lining. She wears open-toed light pink heels with purple bows; one on her ankle and one near her toes.
Accessories: She accessorizes with a small pink bow on her head, a gold necklace with a purple bow as its centerpiece, and a hot pink bag shaped like a present.
Extras: Stand and brush.
Notes: This dolls are exclusive to Target.
San Diego Comic-Con International dolls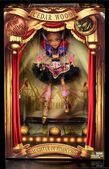 Doll:
Clothes:
Accessories:
Extras:
Notes: This doll is an exclusive to San Diego Comic-Con International 2016.
Notes