The river that separates Ever After High and the Village of Book End has a toll bridge over it and underneath a male troll can be seen. To get to Ever After High, you need to cross his bridge, as shown in the Signature Diaries and in The Storybook of Legends. He is the next villain from the "The Three Billy Goats Gruff" fairytale. It's mentioned that he managed to get an A grade in General Villainy class, such as the Wicked Stepmother and the Big Badwolf.
Character
Personality
He seems very kind and friendly and even appears to be afraid of goats.
Appearance
He wears a purple and dark red, handmade short topthat exposes most of his tummy and dark purple, short trousers. He wears leafy tree vines around his arms and body. He has long untidy, dark grey hair and brown uneven teeth. He has green eyes and blue/grey skin.
Relationships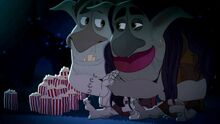 Romance
He is dating with the Troll Lady, thanks to C.A. Cupid's help.
Cartoon
He tries to scare the people across the bridge but is stopped by a goat. Raven's Tale: The Story of a Rebel He has worked as a doorman at The Red Shoes Dance Club on the night of the True Hearts Day Dance. True Hearts Day Part 3  Underneath his bridge, the troll finds his soulmate thanks to Cupid. Here Comes Cupid He and Troll Girl are seen on a date. Date Night He controls the Fairest Wheel. Wanting to impress her mother, Kitty blows pepper by him face, causing it to sneeze and spin the wheel out of control. The Well of Wonder is unplugged by him and the Wonderlandians and Ever After's joy, fun, and wonder is restored. Spring Unsprung Looking for the lost animals the students then find he, who is bathing, and ask him but she is clueless. Rosabella and the Beasts A goat is struck by one of Cupid's arrows and falls in love with the him. Heart Struck
Fairy Tale
Main article: The Three Billy Goats Gruff
Books
Ever After High (II)
It's Friday and the girls prepare for the equestrian test. Lizzie is the last one to perform her assessment and things do not go as smoothly as Sparrow blares on his guitar which alarms Lizzie's horse. As the latter make their way to the troll bridge, a troll blocks the path of the horse, causing it to have a sharp halt which sends Lizzie flying. Next Top Villain
Ad blocker interference detected!
Wikia is a free-to-use site that makes money from advertising. We have a modified experience for viewers using ad blockers

Wikia is not accessible if you've made further modifications. Remove the custom ad blocker rule(s) and the page will load as expected.