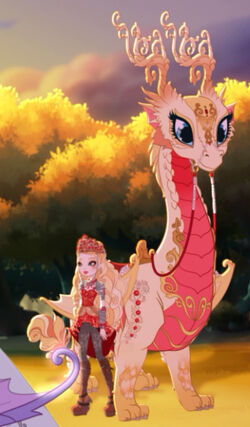 Braeburn is a dragon that appears in the TV special "Dragon Games". Braeburn seems to be able to control lightning, and can fly with her big wings. She is one of Legend's newborn babies and Brushfires sister that was grown into an adult dragon. Her name is a nod to Braeburn apples.
Character
Appearance
Grown dragon
Braeburn is a four-legged dragon with a regal complexion, with a color scheme consisting of golden scales with ivory and red accents, which accumulate around the muscle and chest. Her wings are big and feature designs like swirls, branches and leaves, and the horns are a similar way, fading into a lighter gold, as does the long tail, which end in a tuft of yellow fur, and the legs, with sharp claws. She has big blue eyes with thick eyelashes.
Baby dragon
Baby Braeburn features similar design details as grown Braeburn, in complexion, only the anatomy changes, the head being bigger and the body smaller, with a more youthful appearance overall.
Timeline
Late 2015: Braeburn gets a figure released in the Dragon Games assortment, revealing her existence and her name.
January 29, 2016: Braeburn has her cartoon debut in Dragon Games.
February 02, 2016: Braeburn is announced as part of the Vote In The Dragon Games Tournament poll, as part of Team Braeburn along with Apple White.
March 31, 2016: Braeburn is revealed to be in third place on the poll.