Barista is the female barista who works at the Hocus Latte Café and the Beanstalk Bakery. She has also worked at the concessions stand at the Spring Fairest in Spring Unsprung.
Character
Personality
Barista appears kind, friendly and seems to like her jobs, severing the students.
Appearance
Barista has mid-length dark brown wavy hair with light and mid brown
streaks. She wears two plaits across the top of her head. Her eyes are brown.
Relationships
Friends
She is friends and colleagues with the Son of The Hero of Haarlem.
Cartoon
She serves coffee for Daring Charming and Lizzie Hearts in Castleteria. Lizzie Heart's Fairytale First Date She serves a coffee to "Gunter Guntsman" True Hearts Day Part 2 She attend the Thronecoming Parade Thronecoming She appears in Blondie Lockes imagination scene And the Thronecoming Queen is...She serves dragon popcorn to Gus and Helga Crumb Spring Unsprung She and the Son of the Hero of Haarlem work at Beanstalk Bakery An Hexclusive Invitation She serves cupcakes Just Sweet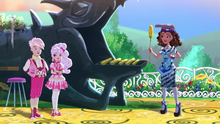 Ad blocker interference detected!
Wikia is a free-to-use site that makes money from advertising. We have a modified experience for viewers using ad blockers

Wikia is not accessible if you've made further modifications. Remove the custom ad blocker rule(s) and the page will load as expected.