Ashlynn Ella/merchandise
Comments

10
257pages on
this wiki
| | |
| --- | --- |
| | To better cover the various aspects of the subject matter, this article has been split into one main page and several subpages. Select which one you wish to read. |
Ashlynn Ella was trademarked on May 14, 2013 and her first doll came out in Early October, 2013. No other merchandise of her is currently available.
Dolls
Signature - Royals
Doll: Her hair is strawberry blonde with a braid and a high ponytail and her lips are pink.
Clothes: She wears a slender blue dress with pink sleeves, which turn into translucent blue sleeves. The bodice is light teal with a gold trim. The body of the dress is covered in pink and white blossoms with a translucent skirt covered in gold leaf patterns over top.
Accessories: Her jewelry consists of shoe earrings, a bird ring, a floral charm bracelet and a gold necklace with a clock. Her tiara is pink with birds on the top. Her shoes are translucent blue to simulate glass and the heels are covered in flowers with vines climbing up her legs. Her bag is square and gold with a clock face on each side.
Extras: Gold stand, brush, and a diary.
Notes: Ashlynn was only available in a 2-pack with Hunter.
Legacy Day
Line: Legacy Day
Release: 2014
Assortment number: BCF47
Model number: BJH49
Doll:
Clothes:
Accessories:
Extras:
Notes:
Notes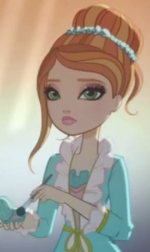 Ashlynn was featured in "True Hearts Day" in a Getting Fairest dress and will likely see release in the line sometime in 2014. She has her hair tied up in a bun, with an aquamarine blue hair tie in the shape of hearts and flowers. She has pale pink ruffles on the neckline of her robe and wrists, and aquamarine sleeves with some gold lining.